Strengthening Our Tribal and Community Institutions
About The Tebughna Foundation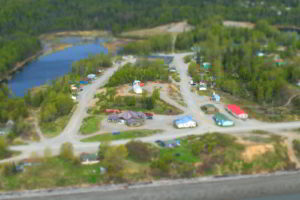 Who We Are
The people of Tyonek the "Tebughna" meaning "the Beach People" have inhabited the lands in and around the current Village of Tyonek for thousands of years. The Native Village of Tyonek, with a population approximately 130, is located only 40 air miles southwest of Alaska's largest city, Anchorage, with a population of about 300,000.
In the early 1960s, oil companies paid $12,942,972.04 for the lease of Tyonek lands. With this money, the Tebughna built community housing, a school for the youth, and a new Tribal Center. A children's trust for education was created, as well as the improvement of roads, an expanded airstrip, and much more.
In 1968, the leaders of Tyonek supported and helped fund the Alaska Federation of Natives who spearheaded the passage of the Alaska Native Claims Settlement Act (ANCSA) in 1971.  In 1973 and under the agreements set forth under ANCSA, Tyonek formed Tyonek Native Corporation and it then became a federally recognized Alaska Native Corporation.  While starting out small, the Corporation has since branched out to create and include many successful subsidiaries and businesses.
Founding of Tebughna Foundation
The Tebughna Foundation is a 501(c)(3) organization that was founded in September 2007 and received its non-profit status from the Internal Revenue Service in June 2009.  The Foundation was formed by the Tyonek Native Corporation to provide services to eligible students who are shareholders of the corporation or tribal members of the Native Village of Tyonek pursuing either a degree or certificate,  vocational training, support with medical expenses or to support cultural or community events.
Through generous contributions from Tyonek Native Corporation, donations from many of our partner organizations and individuals, the Foundation today is able to continue its mission to provide funding for educational and cultural programs. 
With your support we at the Tebughna Foundation are able to keep a positive outlook on the future and strive to see the successes of our tribal members with The Native Village of Tyonek and Shareholders of Tyonek Native Corporation.
To all those who continue support the Tebughna Foundation, "Chiqinik" (Thank You).
~The Tebughna Foundation
"Let us put our minds together and see what life we can make for our children"  ~ Sitting Bull